Residence Schlunhof in South Tyrol: apartments' rates
Tourist tax per day and person 2.10 €. (from14 years of age)
Our rates
Conditions
Included Services
Our rates
Period
Apartments type A
47 m²
Apartments type B
55 m²
Apartments type C
47 m²


New Summer 2023

Apartments type D
55 m²


New Summer 2023

01/09/ - 31/10/2023
Apartement € 105

Apartement € 148

Apartement € 125

Apartement € 164

25/12/ - 10/01/2024
Apartement € 138

Apartement € 197

Apartement € 165

Apartement € 235

11/01/ - 02/02/2024
Apartement € 117

Apartement € 166

Apartement € 135

Apartement € 199

03/02/ - 18/02/2024
Apartement € 123

Apartement € 172

Apartement € 147

Apartement € 205

19/02/ - 22/03/2024
Apartement € 117

Apartement € 166

Apartement € 135

Apartement € 199

23/03/ - 07/04/2024
Apartement € 123

Apartement € 172

Apartement € 147

Apartement € 205

08/04/ - 31/05/2024
Apartement € 96

Apartement € 135

Apartement € 113

Apartement € 148

01/06/ - 30/06/2024
Apartement € 102

Apartement € 145

Apartement € 121

Apartement € 160

01/07/ - 12/07/2024
Apartement € 111

Apartement € 157

Apartement € 132

Apartement € 174

13/07/ - 31/08/2024
Apartement € 136

Apartement € 192

Apartement € 162

Apartement € 217

01/09/ - 31/10/2024
Apartement € 111

Apartement € 157

Apartement € 132

Apartement € 174

Notes
Notes for your stay at Schlunhof:
The rates are intended per apartment and per day.
Children's prices: up to 3 years (cot included) - 10 Euro per day
from 3 years - 20 Euro per day
Every further person in the apartment: 20 Euro
The booking is confirmed after receipt of a deposit of 30% of the total arrangement price.
The deposit is not refunded in case of cancellation.
In case of cancellation of less than 30 days prior to arrival, the full arrangement price is charged.
Final cleaning: 52 - 65 Euro
Minimum stay: 5 days
Dogs are not allowed
Please vacate the apartment by 10 a.m. on the day of departure.
Cash payments accepted or bank transfer in advance.
On the day of arrival, the apartments are ready for occupancy from 3 pm
Sauna area against payment
Our included services
The following services are available to guests of the Residence Schlunhof free of charge
Südtirol Alto Adige Guest Pass - Mobilcard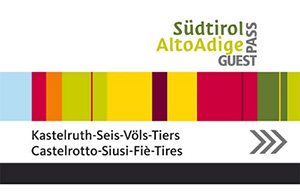 On tour free of charge by bus and train
All our guests get the Südtirol Alto Adige Guest Pass, free of charge. The Card facilitates holidaymakers' exploration of the Dolomites Region Seiser Alm as well as the wider region of South Tyrol, providing a single-ticket access to all types of public transport, such as train and bus. Kids aged between 6 and 13 years recive the Mobilcard Junior. Kids aged above 14 years and adults recive the Mobilcard.
The following services are included:

• shuttle bus services of the Dolomites Region Seiser Alm (except bus routes 10, 11 and 12)
• regional and local trains from Brenner/Brennero as far as Trento and from Mals/Malles to Innichen/San Candido
• bus services throughout the province (town, suburban and city buses)
• the Ritten/Renon, Kohlern/Colle, Meransen/Maranza, Mölten/Meltina and Vöran/Verano cable cars
• the narrow track Ritten/Renon railway and the Mendel/Mendola cable railway
• a return trip between Mals/Malles and Müstair on a Swiss Postbus service
• discount on Combi Card, Nordic Pass and Seiser Alm Card Gold (discount: 3 in 7 or 7 days = 2,00 €; 14 days = 4,00 €)
Other services included in the price
Use of our outdoor swimming pool (12 m x 6 m) with a fantastic panoramic view
Fitness room
Sauna towels
Bed linen
Towels, hair dryer
Kitchen utensils, coffee maker, crockery and cookware, dishwasher, fridge with freezer, ceramic hob, toaster, egg cooker and kettle
Fresh rolls to order
Flat screen TV with international channels
Wireless internet connection
Safe deposit box
Vacuum cleaner
Electricity and heating
Washing machine and ironing facilities
Deck chairs, sun umbrella, garden table
Use of the lawn for sunbathing with panoramic view
Deposit for skis and bicycles
Crib
Parking space in the garage